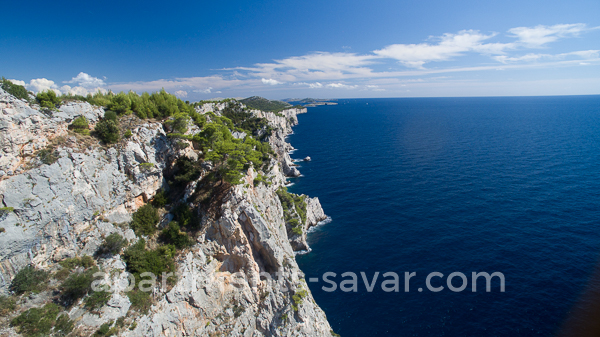 Nature park Telašćica
The contrasts of nature is very expressed here with peaceful bays and rugged cliffs, forests of Aleppo pine on one side and Holm oak on the other side, the area of cultivated fields of vineyards and olive-trees, as well as the area of rocky meadows. The Mediterranean vegetation is represented in the park with more than 400 plant species as well as numerous rare and endemic plants that have been recorded. The underwater world is home to about 250 plants and 300 animal organisms, including the now depleted red coral and the carnivorous sponge. The park is a haven for the 14 island donkeys, which roam freely in the bay Mir.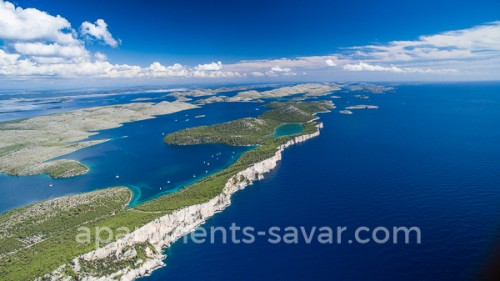 The park is characterized by three phenomena:
The Telašćica bay is one of the safest, the most beautiful and largest natural ports in the Adriatic. There are 6 islets and cliffs inside the bay, and 25 small coves on the 69 km indented coastline. It is an attractive anchorage for many boaters.
The cliffs of the island Dugi otok or locally called "Stene" rising up to 200 m over the sea, and vertically falling down 90 m into the sea. Great number of bird species nest here, as well as Peregrine Falcon and Eleanor's Falcon.
Salt Lake "Mir" with fine curative gray silt is the residence of the endemic specie of eel called "Kajman".
The most picturesque island in the Telašćica bay is Katina and the most unusual is certainly Taljurić, with its geological and geomorphologic characteristics. Telašćica has been inhabited since ancient times, as can be seen from numerous archaeological remains found in the area like the burial mounds in the field Čuh, the Illyrian mounds and the remains of Roman buildings from the first century.
The Park offers organized tours in nature, cruising, water sports, diving, fishing, cycling, photo safari and traditional sea specialities in several catering establishments in the area of the park.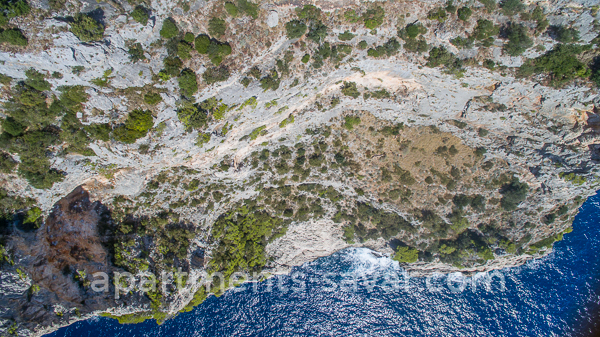 You can enter the park through the land entrance Dolac or by the sea near the lighthouse Vela Sestrica and through the passages Vela and Mala Proversa. Group visits are organized from the nearby islands and from Zadar and Biograd.
BASIC INFORMATION ABOUT THE NATURE PARK TELAŠĆICA:
SCOPE: The southern part of the island, belonging islands and part of the waters of Zadar County.
SIZE: Total 70.50 km2 = 44.55 km2 of sea + 25.95 km2 of land
MAXIMUM DEPTH OF THE TELAŠĆICA BAY: 67 m
MAXIMUM HEIGHT OF "STENE": Grpašćak 161 m
MAXIMUM SEA DEPTH BELOW "STENE": 85 m
MAXIMUM HEIGHT: Mrzolovica 198 m
THE NEAREST VILLAGE: Sali
NAME: In the Middle Ages Telašćiva was named Tilagus because it looked like three lakes connected to each other.